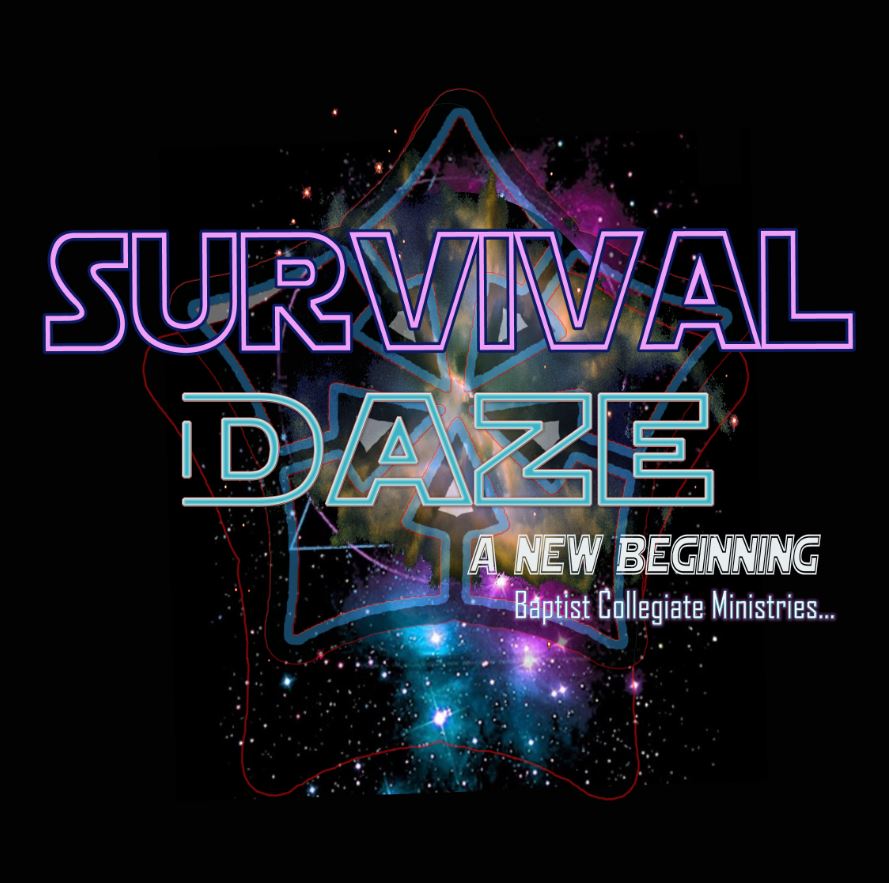 SURVIVAL DAZE (AUG 10-26) is for any new student to Ga Southern:  Freshman or Transfer.  We have a whole week of food, fun, new friends, getting your priorities off to a good start, and forming a whole new GSU family!
There is NEVER a cost to be a member of the BCM (Baptist Collegiate Ministries – a ministry of the Georgia Baptist Mission Board – for ALL students, not just Baptists)!!
The cost for Survival DAZE, however, is just $20 –  this provides for all the activities of the week, food, fun, a great t-shirt and awesome Bible Studies!  Don't miss out.  It will be well worth it for you!!
SURVIVAL daze is the theme for this year… LEARN HOW TO SURVIVE….belong, grow, and impact your world!
/>Complete the Survival Daze Registration below after you pay through Paypal.
Partial Schedule for the week:
Here is a summary of what we have planned for  "New Eagles" at the BCM.  You may not be able to make every event.   Come to all you can.  Just let us know and we'll fill in the details.
SURVIVAL DAZE: "Survivor"
Friday, August 10  – Move In Day  
Saturday, August 11
3 pm : -Fun/Games/Fellowship at the BCM
7 pm: Enjoy Eagles Night Out at the RAC with students from BCM

Sunday, August 12

9:15 am:  Meet at BCM and ride with BCM students to Sunday School, Worship, & a free meal at First Baptist Church Statesboro
6pm: Find Your Classes (with help from BCMers) and Game Night

Monday, August 13

7pm:  Meet at the BCM to walk over to the stadium together for DAY ONE

Tuesday, August 14

7pm:  LOW COUNTRY BOIL provided by FIRST BAPTIST
8pm:  Primetime (BCM Worship)
After Primetime join us for a fun filled Fellowship

Wednesday, August 15

11:30 am or 12:30 pm:  Free BCM Luncheon at the BCM

7 pm:  Girls and Guys Night Out

Thursday, August 16

7 pm:  Food, Games, and Family Group Reveal

Friday, August 17  –  7 pm – Glow Party

Saturday, August 18 – Road Trip to Savannah with your Family Group
Sunday, August 19  – 9:15 am – Meet at the BCM to ride over to Friendship Baptist Church with BCM students for Sunday School, Worship, and Free Lunch
Sunday, August 26 –  9am – Meet at the BCM to ride over to Eastern Heights Baptist Church with BCM Students for Sunday School, Worhip, and Free Lunch
 Essentials, plus a great t-shirt and activities, food, etc. this semester are included in your $20 registration!
Whew!!  What a busy week.  However, you will have just finished your first week as a college student!  We hope you will choose to make us a part of those memories.
>> FAMILY GROUPS– Bible study, accountability, FAMILY, prayer, priorities, FUN, lip Sync, Costume Party, Family vacation, and more– all semester!!