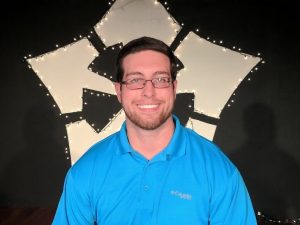 Chipper Gaston
Campus Minister Intern 2017-2018
Georgia Southern University
Baptist Collegiate Ministries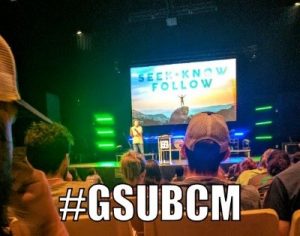 This has been quite a busy semester! On a weekly basis:
I meet with 7-8 student leaders each week, discipling them and helping them to minister within the BCM and on the campus. Each of these students is at a different place of growth. One of them has even made the decision to be baptized as a result of our discipleship meetings!
I help to lead our
International student Walmart runs every Wednesday night and go to International Conversation Hour every Friday. Through these intentional relationship- building events, we are able to reach the nations, right here in our own back yard.
Each Monday night I lead a men's bible study. We have been studying and applying the principles of 1 Corinthians 16:13-14, learning to become mature men of God.
Here are a few highlights from just the areas of my responsibility: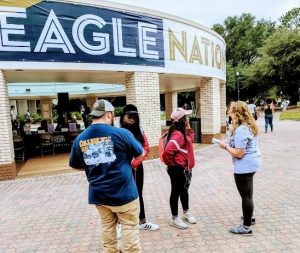 Outreach– During the first week of school, we were handing out popsicles and Chick-fila coupons with a BCM flyer attached. We were able to give out hundreds of popsicles and coupons, and this proved helpful in bringing a number of new students to our PrimeTime worship services. We came to them, and they in turn came to us… kind like it should be each day of our lives, huh?
Evangelism- Early e semester, we did something called "The Great Exchange" on campus.  Many on campus are truly eager to find out the real truth of the Christian faith.  By the time we finished, five students had come to know Jesus and the gospel was shared with many others.   There have been a few students who have really gotten excited about evangelism. Through some regular evangelism on campus, they've learned about how surprisingly easy it is to share their faith and various way of sharing their faith. Some now look forward to opportunities to be on campus to share the gospel.
Community Missions- We were asked by a local Women's Crisis Response outreach to paint the porch of their new building.  For two Saturdays in a row,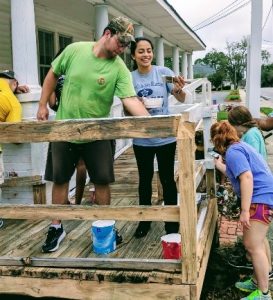 we brought dozens of students to finish the job.  At the end of the first day, we prayed for the work that would be done in the building and specifically for the woman in charge of the project.  She shared how touched she was that these BCM students would not only work so hard but also be so caring for her in particular.
Missions Fundraising- We've had multiple fundraisers for student missions:  Chicken-que, Murder Mystery dinner theater, and Beard Auction. We are grateful for all who helped to make each of these a success.  We've been able to raise thousands of dollars to send students around the world with the good news of Christ.  We hope to keep the momentum into next semester.  THANK you to all who have helped us.
International Students- Throughout the semester during Walmart runs, I've been able to talk frequently with a woman from another country and from another faith.  Not being from here,  there are some American cultural things she's had trouble understanding.  I've been able to discuss them through the lens of an American and a Christian.  This has given an opportunity for me to discuss my faith with her. There have also been some students who have really enjoyed and gotten excited about interacting with international students. They've had some good opportunities to discuss their faith and made good relationships which hopefully will continue through next semester and maybe even beyond.